---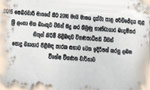 The Auditor General's report states that the Central Bank authorities are responsible for failing to prevent the huge loss of Rs.1.6 billion in the controversial bond issue.
He submitted his report to the parliamentary Committee on Public Enterprises (COPE). It states that in the sale of Central Bank bonds on February 27 last year an estimated loss of Rs.889 million could have been averted while Rs.784 million could have been averted in the sale of bonds on March 29, 2016.
The report stated that the Central Bank had during this period done away with the direct placements methods and that the loss could have been higher if the subsequent bond sales were taken into account.
It sates that the CB Governor had failed to display a sense of due professionalism on this matter.
President Maitripala Sirisena, backed by the senior members of his Sri Lanka Freedom Party (SLFP), insisted that a new Governor be appointed instead of extending the tenure of CB Governor Arjuna Mahendran after his term expired on June 30.
The SLFP is urging that Deputy Governor Nandalal Weerasinghe be appointed as the next Governor of the Central Bank.(Kelum Bandara)