---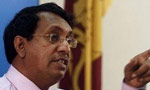 As many as 800 houses were damaged beyond repair in the explosion at the Salawa army camp and each of the affected families would be given Rs. 50,000 per month for a quarter, said Disaster Management Minister Anura Priyadarshana Yapa.
He said, at a media briefing in the parliamentary complex, that the affected families would be entitled to this benefit upon certification by the divisional secretary.
He said 351 families comprising 1,318 persons still remain in six welfare camps.
"The government will assist in the construction of new houses. But I cannot say how long it will take. We have restored 75 percent of the water and electricity supplies at the moment," he said.
He said the government had decided to allocate Rs. 1 million for the provision of dry rations, tents and folding mattresses to the affected families.
"We have released the money to the Colombo District Secretary," he said. Kelum Bandara and Yohan Perera