---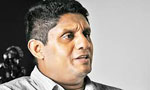 Responding to a video showing Minister Sajith Premadasa providing jobs reportedly to those who worked for him at last year's general election, he said today he was providing a few jobs in the private sector to resolve huge unemployment in Hambantota.
In a post on his official Facebook Page, the housing minister said the unemployment issue in Hambantota was not solved in spite of the port and airport projects, which had failed to generate jobs.
He said he expressed his love to all those who were assassinating his character and attempting to malign his name by using the leaked video.
"Those employers insist that security personnel have to possess a reasonable height but the labour grade does not specify such a stipulation. This is what I was explaining. This is the truth and as usual many want to make a mountain out of a molehill. It's sad," he said.