---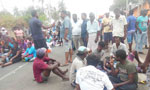 The Puttalam Police has called in the Special Task Force (STF) to control the tense situation at a protest campaign launched by fishermen in Kalpitiya.
The protestors demanding the use of illegal fishing methods be halted have been on the streets since yesterday.
The protest have blocked a number of roads and caused heavy traffic in the area. A tense situation erupted in the area a short while ago, despite an interim order issued to prevent protesters from inconveniencing the public.
It is reported that protestors damaged several vehicles travelling on the road. (Padma Kumari)