---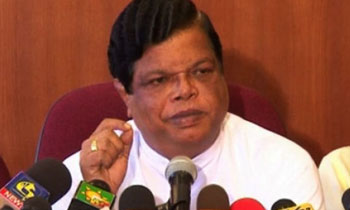 The effective date of the Sri Lanka-Singapore Free Trade Agreement (SLSFTA) should be postponed to ensure the removal of any detrimental clauses, MP Bandula Gunawardana said today.
He said what they said about the SLSFTA had been proved correct by the experts committee in their report on the FTA. The report was handed over to President Maithripala Sirisena on Monday.
"The main problem with the FTA is as the President said, the FTA was rushed without the proper consent of stakeholder institutions. However, we are yet to study the report and the President assured us he would release it in two days," the MP told a news briefing.
He said the Commerce Department was the institution which provided consultations when drafting FTAs but it has not been consulted by the previous International Trade Ministry because the department had been placed under the purview of the Commerce and Trade Ministry.
"The Commerce Department is refusing to take responsibility for the SLSFTA because it has not been consulted. Nine petitions were filed in Court against the FTA. Therefore, it is vital to remove any negative clauses," the MP said.
He said he had submitted a Cabinet paper soon after he assumed duties as the new International Trade Minister seeking approval to hold bilateral negotiations to amend harmful clauses of the FTA before its effective date of January 21 next year.
"However, the Cabinet paper has been put on hold consequent to the Appeal Court suspending the ministers from functioning in their office. We are caught in a pickle now," the MP said. (Lahiru Pothmulla)
Video by Amantha