---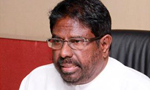 Minister Vijith Wijayamuni De Soyza today said the newly formed Sri Lanka Podujana Peramuna (SLPP) will end up like any other bankrupt political group that attempted to destroy the two main political parties, the UNP and the SLFP in the past.
He opined that the main reason for the possible failure of the SLPP was that, it had no vision, no policy or no ideology. It's only objective was revenge and an attempt to get out of the mess the members like GL, Basil and few others are in.
Addressing the weekly SLFP news briefing at the party office, Minister De Soyza said all the crooks, thieves and criminals will join the SLPP assuming it as 'a safe heaven' for them.
"But the fate of the party with the flower bud as the party symbol has already been decided, he said.
"At the moment, we have 63 registered political parties in the country. Except for those political parties with a representation in Parliament, the entire support base and the membership of all other political parties can be accommodated in a three wheeler and the SLPP is no exception," he said.
Minister De Soyza said more respected, popular and experienced politicians than 'GL or Basil' like Gamini Dissanayaka, Lalith Athulathmudali and Maithripala Senanayake had attempted to break the UNP or the SLFP in the past and come to power forming new political parties but they were miserably failed.(Sandun Jayasekara)