---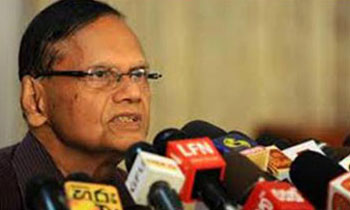 Ahead of talks between the 16-member Sri Lanka Freedom Party (SLFP) group and former President Mahinda Rajapaksa, Sri Lanka Podujana Peramuna (SLPP) said yesterday that it would contest all the future elections only under its 'lotus bud' symbol.
Mr. Rajapaksa will have a meeting with the 16 SLFP MPs who left the government, tomorrow evening.
Ahead of the meeting, SLPP Chairman Prof. G.L. Peiris told a news conference yesterday that his party would contest elections in the future only under the leadership of Mr. Rajapaksa and the lotus bud symbol together with the political parties in the Joint Opposition.
Asked about tomorrow's meeting, he said doors remained open for anyone to join hands with the SLPP-led political force. (Kelum Bandara)
Video by Buddhi