---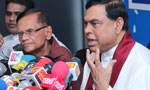 The Sri Lanka Podujana Peramuna (SLPP), the newly formed political party, in its maiden news conference today described itself as the natural home of the Sri Lanka Freedom Party (SLFP) and invited former president Mahinda Rajapaksa to lead the party.
Former minister and SLPP front-liner Basil Rajapaksa said the launching of the new party was a timely need of the people because the country's national security and economy were at risk because ofgovernment action.
"Our main intention is not to win the upcoming election. But as a party, we intend moving forward under the guidance and vision of former president Mahinda Rajapaksa. Unlike the other political parties the SLPP's sovereignty is centered round its members," Mr. Rajapaksa said.
Mr. Rajapaksa said the SLPP would move ahead by strengthening its own identity even though it had itsrootsin the SLFP and added that they would rectify past mistakes which led to their defeat at the previous election and make the SLPP a victorious in the future. (Kalathma Jayawardhane)