---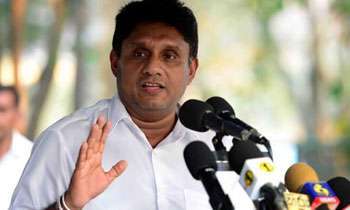 During the time of 51-day unconstitutional government late last year, 500 youth employed at the National Housing Development Authority (NHDA) lost their jobs as part of the SLPP's vicious campaign against the UNP and any citizen that does not support them, Housing, Construction and Cultural Affairs Minister Sajith Premadasa said.
Minister Premadasa asked what guarantee they could give, if the SLPP came to power –which is very unlikely-that they would not expel millions of employees who got jobs under the UNF government in the public and semi-government sector since 2015?.
Addressing a ceremony held to mark the vesting of 27 houses to homeless families at the 'Indradasa Hettiarachchi Gama' at Ingiriya in the Kalutara District, Minister Premadasa said.
"I am glad to see that you have built very decent and comfortable houses using the NHDA authorized bank loans given to you at extremely low interest rates on the lands provided to you free of charge under the 'Gam Udawa' programme. But sadly, I must remind you that this is what the joint opposition and 'Pohottuwa' members cannot stand. They are of the view that if I provide free houses and lands which is the life-long wish of all Sri Lankans, they would willingly become supporters of the UNP. But I must say that I will not conclude the 'Gam Udawa' programme until all Sri Lankans get a decent roof above their heads and no family is homeless be they Sinhalese, Tamil, Muslims, Malay, Burger or any other community or what ever political party they support," Minister Premadasa stressed.
Minister Premadasa said he did not understand as to why this mudslinging campaign has been launched by the JO against 'Gam Udawa' and spreading a canard, misinformation and lies about the programme.
"Are they against providing homes to millions of poor Sri Lankans? There are millions of helpless families in Sri Lanka who cannot afford to build a house of their own in their life time. Is it a sin to give these innocent people a house built on their own land? I never use the 'Gam Udawa' programme to achieve political mileage. My dream is to provide a decent house to all Sri Lankans by 2025 and politics, caste, nationality and social status are not the criteria I use to choose people for housing benefits. The only qualification is their helplessness, that they are low income earners and not having a house for themselves," he emphasised.
Minister Premadasa charged that it was hilarious to see that almost all JO leaders who criticize the 'Gam Udawa' programme are those who built mansions robbing public money during the Rajapaksa regime and added all families who become owners of a house under the 'Gam Udawa' Programme will be enriched by a minimum of Rs. 2.2 million. (Sandun A Jayasekera)