---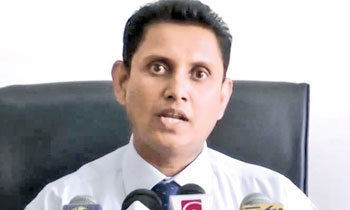 The Government Medical Officers' Association (GMOA) today revealed that Sri Lanka Medical Council (SLMC) Chairman Professor Colvin Gunaratne had sent a 'top secret' letter to Health Minister.
GMOA Secretary Haritha Aluthge told a news briefing that the letter was sent following the first coup to stop the election of members to the council had failed.
He said according to informed sources the letter was also copied to the Minister's public relations officer.
However, the GMOA did not reveal the contents of the letter but challenged Prof. Gunaratne to publicize the contents of the letter if can.
The GMOA described the letter as the second conspiracy to stop the SLMC election.
In a letter dated March 23 sent to the Sri Lanka Medical Council (SLMC) by Health Minister Rajitha Senaratne had ordered to suspend the up coming election of members to the council stating that there would be legal implications.
However, the majority of SLMC membership decided to ignore the letter and to continue with the election proceedings and the GMOA described the attempt as the first conspiracy.
"SLMC Chairman was hatching a coup to sabotage the SLMC election. When we met the Minister Senaratne recently he promised us that he would not interfere the SLMC's sovereignty. If any attempt is made to sabotage the election, GMOA will resort to stern trade union action," he said.
He further said that though the Medical Ordinance has a clean history for nearly 9 decades as it protected the quality of country's health service until now.
He said some Non-Governmental Organiations (NGOs) are attempting to amend the Medical Ordinance however if any amendment is to introduced, it should be done with the intention of improving the quality of health service.
"Any amendment is to effected, it should be done with the support of medical experts to full fill the public's need neither to please the NGOs nor to seek political gains," Dr. Aluthge added.(Thilanka Kanakarathna)
Video by Susantha