---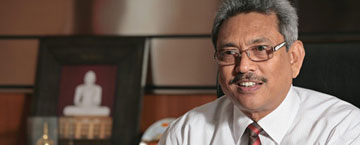 In a bid to unite the different factions of the SLFP, its senior members would urge President Maithripala Sirisena to solicit the support of former Defence Secretary Gotabaya Rajapaksa by offering him a key position, it is learnt.
A few senior members, including those holding Ministerial posts in the Government, have decided to advocate this idea, as a patch-up between the President and former President Mahinda Rajapaksa, which looks a distant possibility at the moment.
A senior member told the Daily Mirror on condition of anonymity that Gotabaya Rajapaksa, the former President's brother, sounded acceptable to both factions of the party and therefore he could be the best bet to hold the party united.
"There is some resistance against some members of the Rajapaksa family. As far as we are concerned, there is no resistance against Gotabaya Rajapaksa," the member said.
"He is admired by many over his role in ending the war and the development of urban areas," the senior member said.
The sources added that Gotabaya Rajapaksa could assist the President in pursuit of the country's interests, if he were offered a post.
A group of senior members held a meeting a week ago and decided that a role for Gotabaya Rajapaksa would help unite the SLFP. They are now planning to make representations to the President in that regard. (Kelum Bandara)