---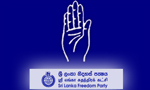 The Central Committee of the Sri Lanka Freedom Party (SLFP) will meet today evening at the residence of President Maitripala Sirisena as its Chairman to discuss the present state of political affairs in the country, it is learnt.
According to SLFP sources, the Central Committee will discuss, among others, political challenges confronting the party at the moment.
SLFP seniors view that the party is contended with a serious crisis as a section of it switching its allegiance to former President Mahinda Rajapaksa asking for chairmanship to be given back to him.
Also, the SLFP will discuss disciplinary action against some of its errant members, and the proposal to assign a post to former Defence Secretary Gotabaya Rajapaksa. Already, President Sirisena has instructed his organizers to revamp the electoral organizations of SLFP. (Kelum Bandara)