---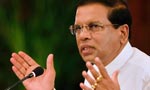 President Maithripala Sirisena yesterday said the Sri Lanka Freedom Party (SLFP) should be restructured as a clean political party and that there would be many obstacles during the said restructuring process.
He said a good political party was the foundation of a good government.
Speaking at a SLFP meeting in Amabalangoda, the President said that despite the obstacles he faced as the Chairman of the SLFP, he would take every possible step to strengthen the party.
He said the responsibility of all SLFPers was not to conspire to form a new government, relying on personal agendas, but to join hands with the party, to solve the problems of the people.
"Today, a new government is not what the people need. They need us to solve problems that have become a burden to them. To achieve that, every politician should put his/her personal political agendas aside and give priority to the people," he said.
Meanwhile, he invited all the SLFP members to attend the 'historic' May Day Rally at the Samanala Grounds in Galle. (PF)