---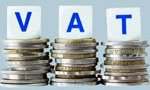 The amendments proposed by the Sri Lanka Freedom Party (SLFP) to be incorporated in the VAT Bill would be presented to President Maitripala Sirisena as party leader today, SLFP officials said yesterday.
While requesting to put the second reading and the passing of the VAT increase on hold until March 2017, the party yesterday said the Government would have to accept its proposals on the controversial tax, if the Government expected its support to enact it.
General Secretary of the UPFA-which is the SLFP-led political alliance-Fisheries and Aquatic Resources Development Minister Mahinda Amaraweera said the SLFP's proposals on VAT would be submitted to President Maithripala Sirisena today (19).
The SLFP Central Committee appointed a ministerial committee comprising Ministers Susil Premajayantha, Anura Priyadharshana Yapa, Mahinda Amaraweera and State Minister Lakshman Yapa Abeywardana to discuss how to provide relief to the people, when the VAT increase is implemented, he said.
"The Ministerial Committee has drafted a set of proposals on VAT increase and expects to submit it to President Sirisena tomorrow. The President Sirisena will discuss our proposals with Prime Minister Ranil Wickremesinghe and arrive at a final decision.
"Until then there will be no debate on VAT in Parliament. However, I believe that there will be some drastic changes to the original VAT proposals," Minister Amarawera said.
Minister Amaraweera said the SLFP did not dispute the Government position that the State revenue had to be increased to at least 20 percent of the GDP from the current 11 percent and the widely practiced way is to do it through increase of indirect tax.
"But tax collection must not be an unbearable burden to the public and to the low income groups in particular. That is why the SLFP has proposed those amendments to the VAT Amendment Bill.
The Supreme Court on July 4 issued an interim order suspending the operation of VAT and NTB.
The order by a three judge bench Chaired by Chief Justice K. Sripavan would be effective until the final determination of the Apex Court on the petition filed against VAT or suitable amendments relating to the imposition of tax are passed in Parliament.
The Government had earlier decided to debate the VAT Amendment Bill tomorrow (20) and make the VAT increase from May 2 in conformity with the Supreme Court ruling.
The Value Added Tax (Amendment) Bill will not be taken up for debate and enactment tomorrow as it has been challenged before the Supreme Court under Article 121(1) of the Constitution through a petition.
Initially, the Government had planned to enact it on that day.
Instead the Bill on 'Regulations Under the Sports Law' will be taken up for debate in the Parliament on 20 July 2016. (Sandun A Jayasekera)