---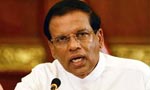 President Maitripala Sirisena said he would not have accepted the chairmanship of Sri Lanka Freedom Party (SLFP) had he had any foreknowledge of the harassment he would be subjected to when running the party's affairs.
Addressing a political meeting in Ambalangoda on Saturday, he said he assumed that he would receive the same degree of cooperation enjoyed by the party's past leaders when he was elected to the post, with members having raised both hands.
"Yet, as the SLFP leader, I am ready to stand up to these harassments. When I was relaxing at my residence after being sworn in as president, 20-odd SLFPers came to me and asked me to accept the party leadership. I was taken aback. I had been surprised when I was chosen as the common opposition candidate for the Presidential Election. Disciplinary inquiries were pending against me. I inquired what former president Mahinda Rajapaksa would do about my taking up the chairmanship. They told me that Mr. Rajapaksa's concurrence was secured prior to offerring the leadership to me," he said.
Mr. Sirisena said he had sought a verbal assurance from Mr. Rajapaksa.
He said the party should be built up properly before forming a government. However, he asked whether the people needed a new government. He said there were a lot of things that should have been done during the post war period.
"Unless we do them now, the eruption of another war will be imminent," he said.
He stressed the need for a national approach to prevent northern youths taking up arms again.