---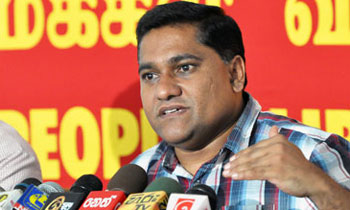 The Janatha Vimukthi Peramuna (JVP) said yesterday the Sri Lanka Freedom party (SLFP) had become so bankrupt so as to take in some of the JVP members who were sacked from the party.
JVP MP Vijitha Herath said President Maithripala Sirisena had misused public property by issuing statements on State letterheads with the State symbol for personnel matters.
He said most of the JVP members who were said to have joined the SLFP had been sacked from the party and that they had already joined the SLFP, UNP or the Frontline Socialist Party (FSP) recently.
"The SLFP should be ashamed to get such bankrupt and useless people to join the party and hold media shows. Most of them had already joined other parties. Anjan Ummah even contested the general election in 2015 under the UNP ticket. S.K.Subasinghe has been working with the President in the Presidential Task Force, R.P.A. Ranaweera is working with Duminda Dissanayake in the Paddy Marketing Board, Dimuthu Abeykoon is an Adviser to the Ministry of Highways and Anura Dissanayake is a coordinating secretary of Peshala Jayaratne," Mr. Herath said.
He told a news conference that the President had issued a media release on a letterhead with the State symbol saying 31 JVP members had joined the SLFP and added that it was a serious offence to misuse public property for such things.
"He should have released a media statement under the letterhead of the SLFP not of the Presidential Secretariat. We intend to complaining to the Elections Commission on this matter,' he said. (Ajith Siriwardana)