---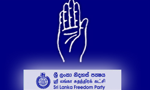 Against the backdrop of emerging political challenges, the SLFP seniors holding posts in the government are planning to meet with President Maithripala Sirisena to discuss how to deal with the situation, it is learnt.
Newly appointed Secretary of SLFP-led United People's Freedom Alliance (UPFA) Mahinda Amaraweera was booed by part supporters in Baddegama last Saturday during an address. Also, former Secretary Minister Susil Premajayantha had a similar experience in Mawanella.
In the meantime, SLFP Senior Minister John Seneviratne has proposed former Defence Secretary Gotabaya Rajapaksa to be given a main post in the party.
Asked for comments on the latest developments, Mr. Seneviratne said he, along with others, would seek a meeting with the President as the party leader to take stock of the situation.
"I proposed a post for Mr. Rajapaksa. It is gaining momentum now. In fact, I had a personal chat with him and explained to him why I did it," Mr. Seneviratne said.
He said, "It is high time to meet the President now to discuss all these matters at hand. We have to take a careful approach. We should not rush in taking decisions." (Kelum Bandara)