---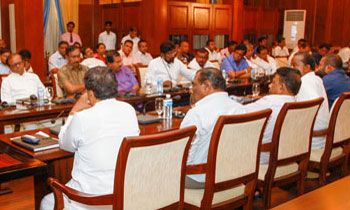 The Sri Lanka Freedom Party (SLFP) Parliamentary group this evening unanimously decided to request Prime Minister Ranil Wickremesinghe to resign from the Premiership before the no-confidence motion, which is to be taken up on Wednesday.
The decision, taken by all 42-SLFP Parliamentarians following a three-hour meeting, has been conveyed to President Maithripala Sirisena, SLFP Spokesman State Minister Dilan Perera said.
He said the SLFP Parliamentarians will meet the Prime Minister tomorrow (4) to inform the decision taken by the SLFP Parliamentary group.
State Minister Lakshman Yapa Abeywardana said the SLFP group has unanimously decided to support the no faith motion against the Premier if the Mr. Wickremesinghe fails to step down.
He said it was best for the Premier to do so without placing the President and government into difficult situations. (Ajantha Kumara Agalakada)