---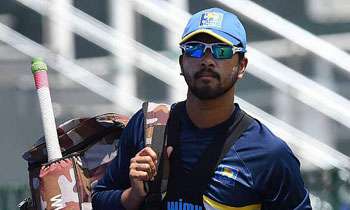 An interesting legal battle is on the cards between the lawyers of Sri Lanka Cricket and International Cricket Council after the former reported to have decided to contest the ICC sanctions issued on Thursday, the Cricbuzz reported.
Following the drawn second Test match between Sri Lanka and West Indies in St. Lucia, ICC Match Referee Javagal Srinath found Sri Lanka skipper Dinesh Chandimal guilty of tampering with the ball. Minutes later, the ICC announced that CEO David Richardson had charged Chandimal, Head Coach Chandika Hathurusingha and Team Manager Asanka Gurusinha of a more serious Level three offence which relates to conduct that is contrary to the Spirit of the game.
The Sri Lankans were charged for holding up play for two hours on the morning of day three after the umpires accused the Sri Lankan captain of ball tampering.
SLC officials were in discussion with the Sri Lankan side that is currently in Barbados and late Wednesday night made a decision to contest the charge. SLC sources said that the board will inform the decision to the ICC Thursday morning.
That means the ICC will have to appoint a Judicial Commissioner to hear the case and the trio of Chandimal, Hathurusingha and Gurusinha will not be suspended from the third and final day-night Test in Barbados.
A level three offence carries a penalty of a ban of two to four Test matches and if found guilty, the top brass of the Sri Lankan side will miss most part of the home series against South Africa next month.
Sri Lanka is believed to be contesting the charge on the grounds of the inconsistency of application of the rule and not following proper procedure. The charge against Chandimal was laid on the morning of day three and Sri Lankan believes that he should have been charged on day two. However, officials have 18 hours to charge a player. But Sri Lankan argues that the umpires didn't have any issues with the ball when they took it to their custody at stumps on day two.
Sri Lanka claims that they were informed about the charge ten minutes before play on day three although both teams had arrived at the venue more than two hours prior to the start of day's play.
Match Referee Srinath also has been accused of inconsistency. The tourists claim that when they were reluctant to take the field, Srinath had assured there would be no imposition of the five penalty runs sanction or a change of change the ball. However, when they took the field the umpires did completely the opposite holding up play again.
Sri Lanka are believed to have accused umpire Ian Gould of getting carried away after the ball-tampering fiasco in South Africa early this year that saw three Australian players getting suspended.
Sri Lankan also questions whether the five-run penalty rule was applied on all occasions in recent times when teams were accused of ball tampering.(Cricbuzz)