---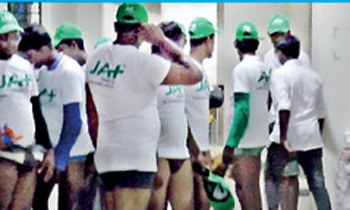 While apologizing to the causal workers engaged as ground laborers at the Sooriyawewa stadium in Hambantota as they were asked earlier to hand over their trousers to obtain the daily wages, Sri Lanka Cricket announced today that steps would be taken to compensate the workers.
It was reported that about 100 workers who were recruited as ground staff on temporary basis had gone to obtain their salaries after six days of work at the Sooriyawewa stadium during the Zimbabwe tour of Sri Lanka when they were asked to hand over the trousers given by the SLC before paying their wages on Monday.
The workers were disappointed at the request because they had not taken an extra trouser to wear after handing over the trouser given by the SLC. Some workers had no choice but to go home in their underwear.
In a statement the SLC said, the President and Executive Committee of Sri Lanka Cricket are perturbed by the reported incident.
"We wish to apologize to those subjected to this ignominy, and will take steps to ensure they are compensated" the statement said.
They said an inquiry has been initiated into the matter and stern action will be taken against those responsible.(DS)
Video by Buddhi