---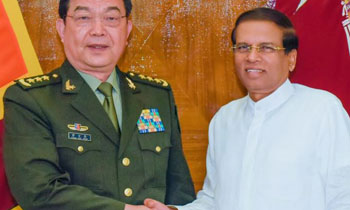 At his meeting with visiting Chinese Defence Minister Chang Wanquan, President Maithripala Sirisena said Sri Lanka would enter into a number of agreements with China in a manner that would not be detrimental to the sovereignty and integrity of the country.
The Chinese Defence Minister is on two-day official visit to Sri Lanka. He called on the President this morning.
The President expressed hope that China would continue to provide military training to the Sri Lanka armed forces and expressed his gratitude to China for assistance in the elimination of terrorism, particularly during the crucial stage of the war.
The visit took place at a time when China is planning to take over a stake of the Hambantota port in the southern Sri Lanka. It is also timed with the increased participation of the US military in joint operations in Sri Lanka in recent times.