---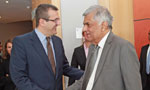 Sri Lanka will regain the GSP plus facility by early next year without a doubt, as the European Union authorities are ready to grant the facility by about that time, said Prime Minister Ranil Wickremesinghe yesterday.
He told journalists in Brussels that Sri Lanka would get the concessionary facility of GSP plus, as the country had managed to ensure good governance and democracy.
"I have met three main leaders of the European Union and will meet three members of other parties later," he said.
"The European Commission, which is the executive body of the European Union, would first have to agree to our request. This is headed by Jean-Claude Juncker, and I have already had discussions with him," he said, adding that many issues had been resolved during the meeting. He said a few more issues remained to be resolved.
He said the Sri Lankan delegation and he had had discussions with the European Council. This, he said, included a one to one meeting between him and its chief Donald Tusk.
"We also need to have discussions with all member states of the European Union separately, and President Maithripala Sirisena, I and the Minister of Foreign Affairs will undertake this task in the near future," he said.
He said Sri Lanka would secure GSP+ status once the European Commission approves a resolution to grant it; as the other bodies in the European Union would approve it once that is done.
In addition, he said, discussions would be held with Conservative and Reformist parties in January next year, and added that former president Chandrika Bandaranaike Kumaratunga would also participate in these talks.