---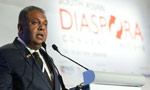 Sri Lanka will play a constructive role in promoting dialogue and cooperation for peaceful development in the region, Foreign Affairs Minister Mangala Samaraweera said.
Delivering a speech under the theme 'Geo-Politics of South Asia' at the South Asia Diaspora Conference in Singapore on Monday, the minister acknowledged that Singapore too had played a major role in helping stakeholders come together and work towards their common interests in South-East Asia.
He said building understanding and confidence among countries is a tremendous task which will require great courage, political will and perseverance.
"But we have a useful example in the region in the form of ASEAN. Both South Asian and East Asian countries have a great deal to learn from this example as we navigate the transitions in the short, medium and long terms," he said.
Speaking further, the minister said that from Sri Lanka's perspective, South Asian geopolitics is closely tied to Indian Ocean geopolitics.
Meanwhile, he said it would be a great and ironical tragedy if Asia's hard won independence, economic development and rising living standards led to conflict and violence rather than peace and stability.
"Therefore, it is our collective responsibility to identify and implement ways and means of ensuring that Asia's rise creates the conditions for regional and global stability as opposed to chaos," he said. (Lahiru Pothmulla)