---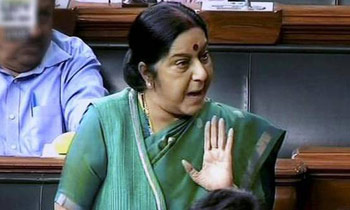 The Government of India felt anguish and pain over the Sri Lankan military's alleged war crimes against unarmed Tamils in the 2009 war, said External Affairs Minister Sushma Swaraj in an unusually strong observation on the Sri Lanka's human rights record.
Ms. Swaraj said India was committed to the protection of the rights of the Tamils in Sri Lanka, even as the U.N. Human Rights Council (HRC) appeared set to take up a crucial resolution on the issue on Friday.
"The anguish with which the members have raised the issue [of crimes committed during the war of 2009], the government associates itself with the same pain," Ms Swaraj said.
"Our aim is to protect the interests of Tamils in Sri Lanka. You can achieve this through two means: by either doing it forcefully or through persuasion with the friendly country," she said answering a question from D. Raja of the Communist Party of India (CPI). (The Hindu)