---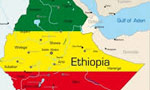 The government of Sri Lanka has decided to establish diplomatic mission in Ethiopia, APA learns.The decision came after Sri Lanka's cabinet of ministers at its weekly meeting last Tuesday granted approval to the government to establish a diplomatic mission in Ethiopia.
The mission will be established in the Ethiopian capital Addis Ababa where the Headquarters of the African Union is situated.
Minister of Foreign Affairs, Mangala Samaraweera, proposed establishing the new embassy with the view of broadening trade and economic relations with Ethiopia, the country with the largest economy in the region and to build a close relationship with countries of the African Union, the African Union, Ethiopia's Ministry of Foreign Affairs said.
Sri Lanka holds official diplomatic relations with 38 countries among 54 sovereign states in the African region, and resident diplomatic missions are only being implemented in four African countries.(APA)