---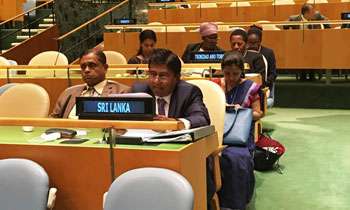 Despite efforts taken by Sri Lanka, the country still faces emerging challenges such as violent extremism, migration, refugees, inequality and climate change, Higher Education and Cultural Affairs Minister Wijeyadasa Rajapakshe said.
He expressed these views at the High Level Forum on the Follow up to the Declaration and Programme of Action on a Culture of Peace at UN Headquarters in New York on Wednesday.
Minister Rajapakshe said the impact of these challenges transcends national borders and required multilateral action to solve.
"These challenges need to be addressed in an integrated and holistic manner with the comprehensive participation of all states as well as multi stakeholders including civil society, media and the private sector," he said.
He said it was vital to recognize that the most efficient way to prevent conflict is to support and sustain a strong functional multilateral system, where engagement, compromise and mutual respect for each other are key components.
He told the forum that Sri Lanka asserts and re-affirms its commitment to building a culture of peace, and recognizes the need for continuous support to further strengthen this global commitment.
In conclusion, he said the effort of promoting peace requires stronger joint efforts by the international community through partnerships and multi stakeholder support, especially at a time when fear and fear mongering, radicalization, terrorism and violent extremism threaten our societies. (Lahiru Pothmulla)