---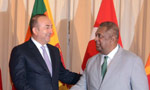 Sri Lanka's geographical location is a strategic one and therefore, the country's security and stability was vital for the region and beyond, visiting Turkish Foreign Affairs Minister Mevlüt Çavuşoğlu said today.
He expressed these views to the media at the Foreign Affairs Ministry after signing an MOU between the two Foreign Ministries on Diplomatic Training, Exchange of Information and Documentation.
Minister Çavuşoğlu, the first ever Turkish Foreign Minister to visit Sri Lanka, expressed optimism that his visit would help open new dimensions in bilateral relationships between the two countries and said their President Recep Tayyip Erdoğan was also keen on making a state visit to Sri Lanka within this year.
"The geographical distance between our two nations has not prevented us from building a dynamic relationship between our two countries. Sri Lanka has extended its assistance to the Syrian and Iraqi refugees in Turkey in the recent past, a gesture which is very much appreciated. We expressed our condolences to the families that went through so much hardship as a result of the recent floods in Sri Lanka and want to assure you that we will stand by Sri Lanka during good times and in bad," he said.
The minister said the government of Turkey welcomed the Sri Lankan government's efforts in the field of reconciliation and announced that the two countries had agreed to increase economic corporation in the fields of security, culture, tourism, agriculture, energy, education and health.
Meanwhile, Foreign Affairs Minister Mangala Samaraweera said the Memorandum of Understanding (MoU) along with greater interaction between the two foreign offices would ensure stronger ties in all spheres of cooperation between the two states.
He said Minister Çavuşoğlu's visit comes at a significant time as the government is rebalancing Sri Lanka's relations with the international community based on the spirit on openness. (Lahiru Pothmulla)
Video by Janaka