---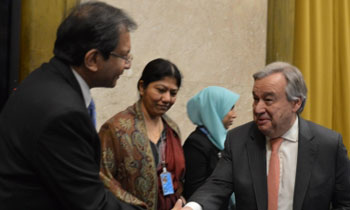 The decision arrived at during Sri Lanka's Presidency of the Conference on Disarmament (CD) to resume substantive work and the role played in this regard by Sri Lanka's Permanent Representative to the UN in Geneva Ambassador Ravinatha Aryasinha, has been commended during the High-Level Segment of the CD held in Geneva this week.
In his address to the Conference on Monday, the UN Secretary-General (UNSG) Antonio Guterres, referred to the recent Decision of February 16 as an effort to find ways to break the long-standing stalemate in this Conference.
At a follow-up meeting held on the sidelines of the High-Level segment, UNSG's High Representative for Disarmament Affairs Izumi Nakamitsu said she was deeply impressed and grateful for the leadership offered by Ambassador Aryasinha in adopting the decision which is a contribution not only to the CD, but also towards the overall objective of disarmament.
She requested Sri Lanka to help with the immediate next steps in the implementation of the recent CD decision.
The Executive Secretary of the Comprehensive Nuclear Test Ban Treaty Organsation Mr. Lassina Zerbo said the decision taken by the Conference has sent a very encouraging message to the international community.
The Foreign Minister of the current CD Presidency – Sweden, Ms. Margot Wallström observed that, "It is in these times of hardship that we must multiply our efforts and show that the conference on disarmament, as a platform for diplomacy, can achieve results that bring us closer to our common goal of disarmament. During the past weeks, intensive consultations have been conducted under the able leadership of the Ambassador of Sri Lanka. During these consultations we sensed that there was an emerging will, underpinned by a spirit of compromise, to get the CD back on track. That sense proved correct. The CD eventually managed to adopt a decision that paves the way for structured discussions."