---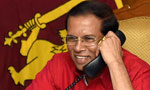 Inspired by Prime Minister Narendra Modi and US President Barack Obama, Sri Lanka's "Tell the President" will be using a special IT app to enable citizens communicating with the Presidential Secretariat to track action taken on their requests through the ministries and departments of the Central government in Colombo, Coordinating Secretary to the President Shiral Lakthilaka told Express on Monday.
Any person with an android mobile phone can install a special app which will enable him to lodge a complaint or make a request to the Presidential Secretariat in Colombo on any matter in which governmental action is needed and track the progress of action on his request, Lakthilaka said.
"SMSs will be sent to the person who had made the request, on the progress of his case. He will know which ministry, department or officer is handling it at any given point of time," he explained.
"It is an all-Island project which will be inaugurated in Jaffna on January 4 by the President," he added.
As of now, the public send their requests for action by letter and there is no knowing as to where the letter is going and who or where it is being attended to. Often there is no response, even if the request comes from the Provincial Council, as the chairman of the Northern Provincial Council, CVK. Sivagnanam, put it.
"We hope the new channel will make a difference," Sivagnanam said.
The inauguration of the new phone app facility is part of President Sirisena's plan to launch many development schemes throughout the island to mark the second anniversary of his assumption of office after winning the Presidential election on January 8, 2015.
While in Jaffna on January 4, the President will release more than a hundred acres of land which were seized during the war. On January 25, he will visit Mullaitivu district where he will attend to the needs of Tamil people who were directly affected by the last brutal phase of Eelam War IV. He will also visit the Eastern province and the Central Highlands to discuss the problems of plantation workers of Indian Origin.