---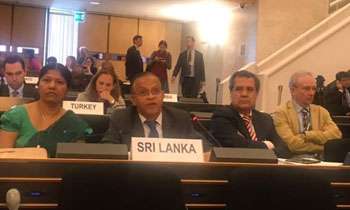 Sri Lanka has reiterated the importance of the Non-Proliferation of the Nuclear Weapons (NPT) as the global regime for nuclear non-proliferation and disarmament which ensures a balanced and non-discriminatory approach to building international peace and security.
Sri Lankan Ambassador and Permanent Representative to the UN in Geneva, A.L.A. Azeez expressed these views while addressing Second Meeting of the Preparatory Committee for the 2020 Review Conference of the Parties to the Treaty on the Non-Proliferation of the Nuclear Weapons (NPT) on Tuesday in Geneva.
"We support all efforts towards achieving the universalization of the NPT as the legal regime that enjoys the participation of the largest number of UN Member States including the permanent members of the UN Security Council. We also support the call for application of the full scope of the International Atomic Energy Agency (IAEA) Safeguards to ensure meaningful implementation of the provisions in the Treaty," he said.
Ambassador Azeez said moving away from the realistic path to disarmament may lend itself to a possible re-emergence of an arms race, with far reaching consequences for humanity if it happened.
He said a nuclear security infrastructure linking nuclear safety regime and peaceful uses framework at the national level is pivotal to an environment which leaves no room for vulnerabilities to be exploited by persons or groups with malicious intent.
"We propose that this Meeting come up with elements and guidelines that will help a time bound and pragmatic action plan and outcome to emerge at the 2020 NPT Review," he said.