---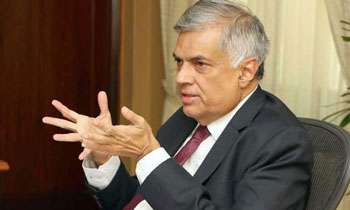 Prime Minister Ranil Wickremesinghe yesterday informed parliament that 9,509 Sri Lankan refugees who were in refugee camps in Tamil Nadu had returned to the country since 2010 and that another 3,815 people had expressed their willingness to return as well.
He told parliament that the government had taken every step possible to promote reconciliation among the communities and all those who left the country during the war have been invited to return to the country.
In response to a question raised by TNA MP Charles Nirmalanadan regarding the action taken by the government to bring back Sri Lankan refugees in Tamil Nadu, the Premier confirmed that the Indian government had agreed to provide naval assistance to transport the people and their belongings to Sri Lanka.
"The Indian High Commission in Sri Lanka has been providing us with information on the refugees sheltered in refugee camps in Tamil Nadu. Steps have been taken to provide birth certificates, passports and other documents to children born inside refugees camps," he said.
MP Nirmalanadan said 65, 000 persons belonging to 20, 000 families were sheltered in 110 refugee camps in Tamil Nadu and that another 35, 000 persons were living outside these camps. He wanted to know whether the government would provide financial assistance to the people who were returning to the country.
The Prime Minister said the government had already provided assistance to those returned and had helped them to reintegrate into society while also providing them transport and financial assistance to purchase household appliances and equipment for their new homes.
"Rs.10, 000 was given per person as an integration payment while Rs.7,500 was paid to a person below the age of 18. additionally, Rs. 2,500 was given as a transport allowance per person and a further Rs. 5, 000 for other expenses. They were also given Rs.28, 000 to purchase equipment and apparatus for their houses on registration under their respective divisional secretaries," he said. We plan to construct 50, 000 houses in the north while steps would be taken to build another 25, 000 houses thereafter for the resettlement of refugees.
He said steps would be taken by the Resettlement, Rehabilitation, Northern Development and Hindu Religious Affairs Ministry to provide lands and livelihood assistance to the returnees.
He also said a committee comprising of the Foreign Affairs Minister, Resettlement, Rehabilitation, Northern Development and Hindu Religious Affairs Minister, the police, navy, Immigration and Emigration Department and the Registrar of Persons Department had been appointed to coordinate the matters. (Ajith Siriwardana and Yohan Perera)