---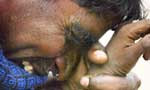 A Sri Lankan lodged in the special refugee camp in Tiruchi threatened to commit suicide along with his family on Friday, giving tense moments to State authorities.
K. Dhayabararaj has been demanding his release from the camp claiming that he is innocent and has no criminal case pending against him in Sri Lanka.
Even as security agencies assured his family that the release of Mr. Dhayabararaj was pending with the government, the refugee fell ill and was rushed to the Government Hospital late evening. His condition was said to be stable.
In March this year, Mr. Dhayabararaj alleged that his wife Udayakala and children were illegally detained for several months in a special quarantine camp at Rameswaram in Ramanathapuram district. (The Hindu)