---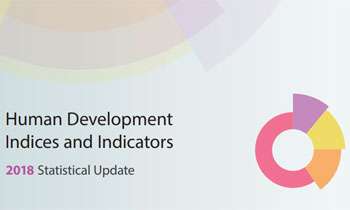 Sri Lanka ranked 76 at the latest Human Development Index (HDI) with a value of 0.770 under the category of countries with 'High Human Development', the United Nations Development Programme (UNDP) said.
The HDI-2018, which was compiled by the UNDP and released on Friday said the value of Sri Lanka has been increased by only 0.78 per cent from 1990 to 2017.
The life expectancy of Sri Lankan females was listed at an average of 78.8 years and that of males at 72.1 years. The estimated gross national income per capita of females was 6,462 (PPP$) and males were 16,581 (PPP$). In terms of gender inequality, Sri Lanka ranked at 80.
Norway topped the index followed by Switzerland, Australia, Ireland and Germany as the top five countries with the highest human development respectively.
Niger was identified as the country with the least human development out of 189 countries followed by the Central African Republic and South Sudan.
Meanwhile, neighbouring India ranked at 130, Bhutan at 134, Bangladesh at 136, Nepal at 149, Pakistan at 150 and Afghanistan at 168 places of the HDI Index.
The health sector of Sri Lanka showed better outcomes with only 30 deaths per 100,000 live births under the Maternal Mortality Rate category.
More than 75 per cent of infants below five months in Sri Lanka are being exclusively breastfed and the HIV prevalence was reported as 0.1% between the age 15 to 49.
The adult literacy rate was high at 91.2 per cent with 82.6 females and 83.1 males having at least some secondary education from the total population. (Lahiru Pothmulla)