---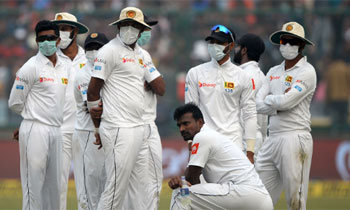 Delhi pollution has become a menace for the residents of Delhi in recent months. And on Sunday, it came to affect the Sri Lankan players during the Test against India at Feroz Shah Kotla stadium.
Coming back from lunch, several Sri Lankan cricketers including captain Dinesh Chandimal, Suranga Lakmal and Lakash Sadakanan were seen spotting gas masks on the field. The sight of seeing cricketers with the masks bothered the commentators Sanjay Manjrekar and Russel Arnold who said it will get difficult to play with the masks. They further said that seamers will particularly face difficulty while bowling.
Manjrekar further said that Indian players, who came on the field to give water to the players, were also seen with the masks before. Sri Lankan pacer Lahiru Gamage and Suranga Lakmal felt particularly bothered by the pollution and starting panting while bowling. A break was called on by the umpires to discuss the playing conditions at Kotla after Gamage started coughing while bowling.
Both the captains discussed with umpires whether the game should be continued as Chandimal stressed his players were not comfortable on the field. The third umpire and match referee were also appraised of the situation and medical teams were brought on the field to take a look at whether the players can continue to play.
After plenty of discussions, which lasted for about 15 minutes, Sri Lankan fielders went back to their fielding positions, still wearing masks and the game was resumed again. It is the first time ever in the history of international cricket that a Test match was held up due to pollution concerns.(The Indian Express)