---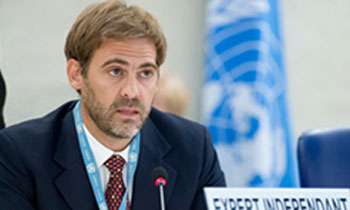 Sri Lanka should implement a robust legal framework to conduct comprehensive human rights impact assessments prior to carrying out large scale infrastructure projects such as the Sampur power plant and the Hambantota port, a visiting UN Expert today said.
Juan Pablo Bohoslavsky, the UN Independent Expert on the Effects of Foreign Debt on Human Rights expressed these views at a news briefing held at the end of his nine-day visit to Sri Lanka.
After the end of war in 2009, he said large-scale infrastructure projects have flourished throughout the country.
"Examples include the Colombo Outer Circular Expressway, Sampur power plant, the Hambantota port and Hambantota airport, all projects having been approved and launched in the late 2000s and early2010s. However, the Sri Lankan legal framework does not establish the obligation to conduct a comprehensive human rights impact assessment of such infrastructure projects before they are started. So, I advise the Government to pass robust and comprehensive laws on the issues based on existing international human rights standards," Mr. Bohoslavsky said.
He said the Sri Lankan Government should undertake an assessment of the human rights impact of its economic reform policies, apart from infrastructure projects.
Commenting on corruption, illicit financial flows and human rights, Mr.Bohoslavsky commended the Government for establishing a special court to handle cases specifically related to bribery and corruption in order to speed up cases that have dragged on sometimes for years.
"It is equally important to ensure that their members are appointed on a meritocratic basis, enjoy stability and are independent during their entire tenure, and that the courts are financially autonomous and not subject to political pressure or interference," he said.
He said illicit financial flows cover a broad range of phenomena including tax evasion, money laundering and corruption.
The negative impact of such flows on human rights, he said can be translated in a number of ways, the erosion of public finance and available resources being the one with the broadest impacts on human rights.
"In order to assess those impacts and design and implement adequate policies, estimations of illicit flows are needed. Yet, I learned that no study or official estimation of illicit outflows or inflows has been conducted to date in Sri Lanka. I urge the Government to conduct these studies in order to further curb illicit financial flows in line with the Sustainable Development Goals," he said.
He said banks in Sri Lanka have the duty to report suspicious transactions to the pertinent authorities based on the principle 'know your client'.
"However, because tax evasion is not considered a predicate offense in the country, banks have no duty to report suspicious transactions that could involve tax evasion of their clients. I urge the Government to close this legal gap and request help from the banks to improve tax collection," he said.
Meanwhile, he advised the Government to support the Constitution reform process in order to ensure inclusion of all economic, social and cultural rights in the national legal system, including their justiciability.
"Economic and social rights should be incorporated explicitly in the Constitution. Sri Lanka has ratified the International Covenant on Economic Social and Cultural rights in 1980. It is an obligation of the State of Sri Lanka explicitly to acknowledge and recognize social and economic rights of its citizens. I also recommend courts to take into account the human rights international legal obligations of Sri Lanka when taking decisions on economic and social rights in the country," he said.
He also commented on the women, who are in the rural areas and affected by war, who had borrowed large number of loans and said they were specially targeted by micro finance lenders.
"Those institutions charge up to 220 percent interest rates for their loans and apply compound interest. The mechanism has been designed to make huge profits for the lenders and put a very heavy burden on the shoulders of the largely poor female borrowers. I urge the Government to establish an interest rate cap for these institutions and also to pass and implement robust and strict regulation," the expert stressed. (Lahiru Pothmulla)