---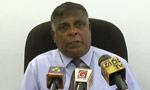 Sri Lanka should seek more bilateral agreements to open its economy with other economies like those of India, China, South Korea and Japan to avoid the after-effects of Brexit, Joint Apparel Association Forum General Secretary M.P.T.Cooray said yesterday.
He told reporters that even though more than 40% of garments made in Sri Lanka were sent to Britain, there would be no major effect on the Sri Lankan economy with regard to the export of garments.
However, he said possible changes in worldwide economies due to Britain's exit from the European Union (EU), will definitely make an impact on the demand for Sri Lankan-made garments in the short term.
Otherwise, if Britain faces an economic depression after the exit from the EU, it will also affect demand for Sri Lankan garments, he said.
"In the face of regaining GSP+, if Britain remained in the EU, we would have exported our goods at a competitive price to the EU and Britain as well. There is a need to look into the matter whether Sri Lanka can export goods to remaining countries in the EU," he said. "Not only Sri Lanka, but also many countries will suffer due to the after effects of Brexit. Presently, we are carrying out a survey on possible impacts on the Sri Lankan garment industry post- Brexit."
Video by Indika Sri Aravinda