---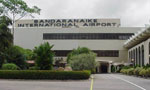 A Sri Lankan housemaid, who has been held in Riyadh, Saudi Arabia since 1999, without being paid for more than fifteen years amidst physical harassment by her employer, has been given her salary in arrears and brought back to the country, Sri Lanka Bureau of Foreign Employment (SLBFE) officials said.
The woman, aged 44, a resident of Muvunuwatawana, Chilaw was brought back to the country two days ago by the SLBFE.
Murine Jasintha went to Riyadh when she was 29, on an SLBFE registered working agreement.
After the SLBFE officials intervened into the matter, the employer had agreed to pay her dues Rs. 2.7 million in arrears for fifteen years.
According to SLBFE sources, the woman was not allowed to get in touch with her family members after two months after she started working.
It is also reported that she had not been given meals properly and she had often faced physical harassment by her employer.
However, she had managed to escape from the employer's place and sought refuge at the Sri Lankan Embassy in Riyadh.
"Our Mission in Riyadh summoned the employer and informed him about the possible legal action against him unless he paid the wages in arrears.
"He accepted his fault and agreed to pay the workers dues for fifteen years. She was given Saudi Riyal 68, 000. No legal action was taken against him therefore," an SLBFE official said.
Ms. Jasintha is currently waiting at the SLBFE Sahana Piyasa welfare centre in Katunayake, until her family members arrive to take her home tomorrow. (Piyumi Fonseka)