---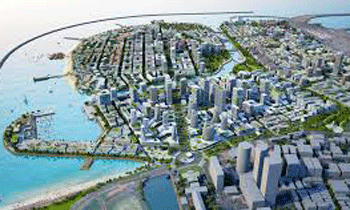 Sri Lanka is in talks with two Chinese companies about investing up to $3 billion to build in a new refinery at its Chinese-controlled port, a top government official said on Friday.
Sri Lanka wants to build a new refinery in its southern Hambantota port, where China Merchants Port Holdings (CMPH) has a 99-year lease to handle commercial operations.
Located near the main shipping route from Asia to Europe, Hambantota port is likely to play a key role in China's "Belt and Road" trade route initiative.
Mangala Yapa, a director at the state-run Board of Investment, said two Chinese companies had put forward a joint venture proposal for the refinery, which is expected to produce 5 million tonnes per annum with an investment between $2.5 billion and $3 billion. He did not name the Chinese firms.
"The investment is large and we are discussing with the two companies on that basis," he told Reuters, adding the joint venture plan was chosen from three bids including one from a U.S. company through a local partner.
"The refinery needs around 500 acres of land and we can't reserve the land. Many people try to get the land first and then look for investors."
Yapa did not elaborate on the plans of the proposed refinery.
China's influence over Hambantota port has sparked widespread anger in Sri Lanka.
The deal with CMPH, which has a majority stake in the lease, fueled speculation the port could be used for Chinese naval vessels. CMPH is also in talks with the government to develop an industrial zone next door.
This year, the government revised its original deal with CMPH to give greater influence to the Sri Lankan Ports Authority to try to allay concerns - including from Japan, the United States and India - that the port might be used for military purposes.
The investment zone deal is yet to be signed.
The Hambantota refinery will be the second new refinery the island nation has planned in the country.
Sri Lanka already has a deal for a 100,000 barrels per day-plus (bpd) refinery with Indian Oil Corp at the country's eastern port city of Trincomalee with the aim of exporting fuel.
Sri Lanka's sole oil refinery, state-run Ceylon Petroleum Corporation's decades-old
50,000 bpd plant, was originally configured to run on Iranian crude and Sri Lanka had to import more refined oil products after U.S. sanctions led it to stop imports from Iran.(Reuters)