---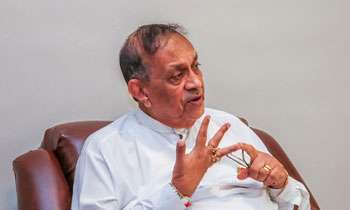 Speaker Karu Jayasuriya has called President Maithripala Sirisena's sacking of prime minister Ranil Wickremesinghe to bring former president Mahinda Rajapaksa back to power a non-violent coup, Reuters reported on Wednesday.
"The entire series of events can only be described as a coup, albeit one without the use of tanks and guns," Speaker Jayasuriya has said in a letter dated November 5 to diplomats and foreign missions, adding the "entire matter was pre-planned".
Mr. Jayasuriya says the majority of parliamentarians view the change in prime minister as unconstitutional. In the letter he said some of them were offered bribes and ministerial jobs to support the new government.
He accused Sirisena of acting "contrary to all norms of transparency, decency, democracy and good governance, and contrary to the constitution which he has sworn to uphold and defend."
Meanwhile, a foreign ministry official has told Reuters that some foreign envoys have said they will only recognize Rajapaksa as prime minister after he can prove he has support of a majority in parliament.