---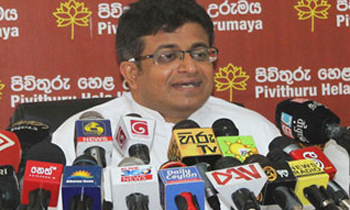 The Pivithuru Hela Urumaya (PHU) yesterday said that Sri Lanka had allegedly supported the Central Intelligence Agency (CIA) in several abductions.
PHU General Secretary MP Udaya Gammanpila told a news conference that these facts were revealed in a book written by former Indian Prime Minister Manmohan Singh's daughter Attorney Amrith Singh.
MP Gammanpila said America was searching for a Russian computer hacker named Manokin Raufowich for stealing confidential information.
"He was produced in courts in Sri Lanka after been arrested during a holiday with his wife and daughter and was released on bail. Then he went missing. There were no immigration and emigration reports about his departure from Sri Lanka," he added.
He said it was reported that he was taken to America by American Intelligence Unit with the support of the Sri Lankan government.
"According to the said book, CIA organization can abduct any person they wish while on holiday abroad. Then that person will be landed to an army camp by a private plane. There would be no clue that the wanted person has left the country," he said.
He said however, this person was not taken to America but to a torture chamber in another country where there are less punishments. He also said that this book had included a list of countries which are supporting these kinds of acts where Sri Lanka was one of them.
"Page 109 of this book said that Sri Lankan government has supported these illegal abductions. This book reveals in August 2003, Sri Lanka has supported the CIA in abducting Riduwaan Isamudeen," he added.
He said Prime Minster Ranil Wickremesinghe who was now in power was the Prime Minister at that time and added that it was a well known fact that he was biased towards America.
He said that it was a question whether the Russian hacker had met with the same fate as Riduwaan Isamudeen. He also said that it was the government's responsibility to reveal it. (Kalathma Jayawardhane)
Video by Buddhi