---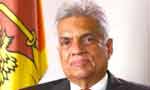 Sri Lanka is to go in for a common trading bloc together with Europe, India, China and Singapore, sources close to Prime Minister Ranil Wickremesinghe said yesterday.
According to the sources, the trade bloc will comprise all 28 nations of the European Union plus India, Singapore, China and Sri Lanka.
"The Economic and Technological Cooperation Agreement (ETCA) that is to be signed with India is to be a part of this plan," the sources said.
Also it was highlighted that Sri Lanka would be able to enter foreign markets, including one of the biggest ones, when the bloc is created.
The prime minister is expected make a statement in Parliament in June on the subject. He is expected to reveal all the details of the programme at that time.
It has already been revealed that Sri Lanka intends to sign trade agreements with Singapore, China and Europe. (Yohan Perera)