---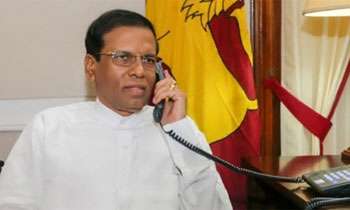 While confirming that the entire staff of the Sri Lankan Embassy in Austria including its Ambassador was recalled, President Maithripala Sirisena today said he ordered to do so to send a message across to other Sri Lankan missions as well.
Addressing the National Ozone Day celebrations at the BMICH in Colombo, the President said his staff tried to contact the Embassy in Vienna, Austria for four and a half hours because he wanted to speak with the Sri Lankan Ambassador there.
"However, no one was available to respond to at least one of the six phones at the embassy. Therefore, the entire Sri Lankan staff from the ambassador to the labourer was recalled. The staff will return soon. I made this order to send a message to other embassies as well," he said.