---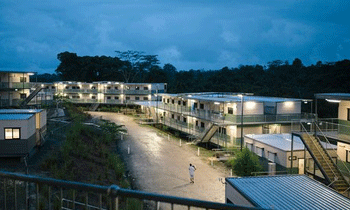 A 31-year-old Sri Lankan asylum seeker held at the Manus Island detention centre in Papua New Guinea has been charged with the alleged rape of a local woman, the Guardian reported on Tuesday.
Rajeev Rajendran, originally from Sri Lanka, was charged in Lorengau court over the alleged assault which took place at a hotel on January 17.
The acting provincial police commander, Senior Inspector David Yapu, said the man had met the woman at Lorengau market before taking her to a local hotel, where she was allegedly assaulted.
It is alleged she was raped three times there before she was able to reach a relative's house. She was treated for injuries at Lorengau hospital.
"When she managed to escape she fainted on the riverside which is where she was rescued and taken to the hospital," Yapu told Guardian Australia.
The woman, described by Yapu as an 18-year-old who is still in school, and her parents reported the alleged attack to police.
Rajendran's case was adjourned in Lorengau court on Monday. He remains in police custody.
Allegations of sexual violence within the Manus Island detention centre have been raised on a number of occasions.
In July 2015 three expatriate guards were alleged to have drugged and gang-raped a local woman inside the detention centre staff accommodation block. They were flown off the island before police could speak to them.
Despite promises from the Australian government that they would be sent back, the men have never returned to Manus.
Several refugees and asylum seekers held in the detention centre have registered formal complaints of sexual assault and rape.