---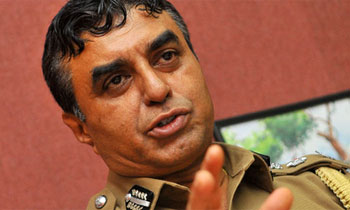 IGP Pujith Jayasundara yesterday criticized the verbal order, given by an individual during the previous regime, to stop the construction work of the Attidiya Police University within 24-hours and said the Sri Lanka police was not anyone's property.
Addressing those present at the opening of the new administrative building of the Weeraketiya Police Station on Tuesday, the IGP said the Sri Lanka Police had to grapple with an unfortunate incident during the previous regime.
"We received a verbal order to stop the construction of the Police University on an 18-acre block of land at Attidiya within 24 hours. It was being built at an estimated cost of Rs.365 million. Did the person giving the order thing that the Sri Lankan police was somebody's private property," the IGP said.
He said if police personnel were able to improve their higher educational levels, the outcome would not be for personal benefits but to the public efficiently and in a better way.