---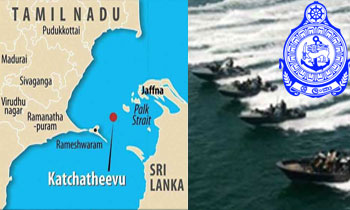 The Sri Lanka Navy today denied the Indian media reports of harassment against Tamil Nadu fishermen who forcibly entered the Lankan territorial waters near Katchatheevu islet in the recent past.
When Daily Mirror inquired of several reports published in the Indian media, Navy Deputy Media Spokesman Lieutenant Commander K K C Udayanga said it was a regular allegation made by several Indian media and was baseless.
According to SL Navy, over 1,000 fishermen across the Tamil Nadu coastal belt enters into Lankan territorial waters near Katchatheevu islet violating the International Maritime Boundary Line (IMBL) three times per week.
However, he said the SL Navy only chase them away over to IMBL, however, no harassment was done to them.
"I strongly denied the Indian media claims that we damage fishing equipment of Tamil Nadu fishermen. It has been identified by both the Indian and local naval authorities that the Southern Indian fishermen enter local waters on each Monday, Wednesday and Friday via Katchatheevu islet. It was our duty to protect the Lankan territorial waters and to prevent any illegal activity in our waters.
"It has been a challenge not only to us but to Indian authorities to prevent violation of maritime boundaries by Tamil Nadu fishermen. However, we have given a specific attention on the said days to minimise their entry to Lankan waters.
"We chase them according to the international protocol on such situations and also in the presence of the Indian Coast Guard officers. We do not have authority to cause any damage or harm to fishermen," he said.
Further, he said naval activities in the vicinity of Katchatheevu islet was in collaboration with the Indian Coast Guards and it always concerns the bilateral connection between the two countries.
Meanwhile, in a report published by the 'Hindustan Times' Sunday (25) it had said that "Over 2,000 Tamil Nadu fishermen were chased away by the Sri Lanka Navy and their nets cut off".
"The fishermen from this island town had ventured into the sea in 565 boats on Saturday and were fishing off Katchatheevu when the Sri Lankan naval personnel came to the spot and snapped the fishing nets of 30 boats before driving them away, Rameswaram fishermen Association president S. Emerit alleged," the report added.
According to the report the fishermen had urged to take steps to retrieve Katchatheevu from the island nation and restore the traditional fishing rights of the Indian fishermen.
The long-standing dispute over Katchatheevu islet was settled following India ceding the Katchatheevu Island to Sri Lanka in 1974, however, it was reported that Tamil Nadu fishermen who constantly violate the Sri Lankan Maritime Border. (Thilanka Kanakarathna)