---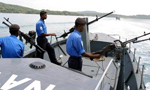 The Sri Lankan Navy today denied allegation by the Indian Fishermen's Association of attacking Tamil Nadu fishermen in the seas off Kachchathivu Island last night.
Quoting the leader of the Association, P Sesuraja, the Indian media reported that four Tamil Nadu fishermen suffered minor injuries when they were attacked, allegedly by Sri Lankan navy personnel.
According to reports, the fishermen, part of a group of 3,000 who had put out to sea from Rameshwaram on Saturday night, returned without a catch after the navy officers threatened them for fishing in the island nation's territorial waters, he said.
"The navy personnel took away their cell phones and GPS equipment and also damaged the nets of 10 other boats," he said.
Navy Spokesman Captain Akram Alavi denied the allegation and said they would never attack the Indian fishermen or damaged their equipment. "We only arrest the fishermen who illegally fish in Sri Lankan waters. The Indian fishermen's associations make such false allegations on a regular basis," he said.(Darshana Sanjeewa)