---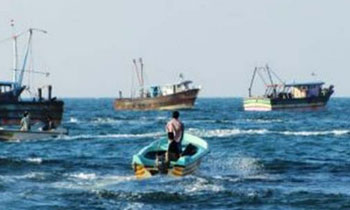 Thirteen Indian fishermen have been arrested by the Sri Lankan Navy for engaging in illegal fishing in the Sri Lankan territorial waters in the seas off Katchativu Island this morning.
Navy said a fast attack craft attached to the Northern Naval Command arrested the fishermen along with two trawlers.
The arrested fishermen were brought to the naval base SLNS Uththara in Kankesanthurai while the trawlers had been taken to SLNS Elara in Kareinagar.
They were handed over to the Jaffna fisheries officials for onward legal action.
Earlier on December, 27 Indian fishermen were apprehended by the Sri Lankan Navy with five boats near Delft Island.