---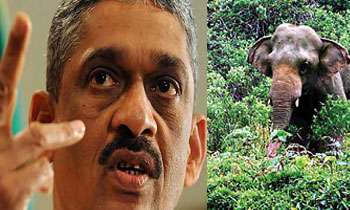 Minister of Wild Life Field Marshal Sarath Fonseka today revoked his original decision to remove two elephants from World Heritage site Sinharaja Forest Reserve.
Director General of Wild Life M. G. C. Suriyabandara said the Minister ordered to temporarily halt removing the elephants.
Despite President Maithripala Sirisena's order not to remove the two elephants on Friday (15), Wild Life officers continued search operations to find the two elephants in order to relocate them to some other place under Minister Fonseka's guidance.
A special team of Wild Life Officers was deployed to Sinharaja Forest with necessary tools like ropes, chains and other tools to load the elephants.
Instead of Wild Life Veterinary surgeons, Air Force Veterinary surgeons were deployed to the place with anesthetics to sedate the elephants.
Minister's stance was to remove the elephants for the safety of the people of the area despite the order of the President.
According to the Minister's order, the operation to catch the elephants was underway this morning.
Meanwhile, a protest organized against the removal of elephants was held in Rambuka village near the Sinharaja Forest today with the participation of professionals, environmentalists and residents of the area.
When inquired of this from the Assistant Director of Wild Life Prasanna Wimaladasa in Uva and Southern Provinces, he said the operation of catching the elephants was stopped under the instructions of the Minister of Wild Life and the Director General. (Ajithlal Shanthaudaya)