---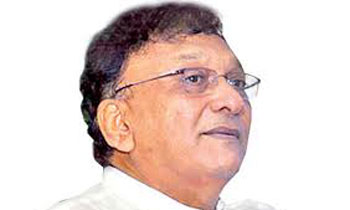 Leader of the House Lakshman Kiriella said today that Field Marshal Sarath Fonseka's statement on former Army Commander Jagath Jayasuriya was not the stance of the Government and that it was his personal opinion.
He told Parliament that the "Good Governance" Government would never imprison Army Commanders like the previous Government.
He said this in response to a question posed by Joint Opposition MP Dinesh Gunawardane whether Field Marshal Fonseka's statement on Mr. Jayasuriya represented the Government's policy.
Mr. Gunawardane asked what action would be taken against betrayal of the country's security forces by the Members of the Government.
He said the statement made by President Maithripala Sirisena contradicted with the statement made by Minister Fonseka.
Posing a question MP Gunawardane asked the Foreign Minister to explain the details of the legal action being taken against General Jayasuriya and any other members of the Army, Ambassadors and members of the diplomatic corps in foreign countries.
He also asked the Government to reveal the actions being taken to protect the security forces in foreign countries.
Leader of the House Mr. Kiriella said the Government would answer the question in two weeks.
When the Opposition members objected saying that two weeks were not needed to answer the question, Speaker Karu Jayasuriya said the matter would be taken up at the party leaders' meeting tomorrow. (Ajith Siriwardana and Yohan Perera)