---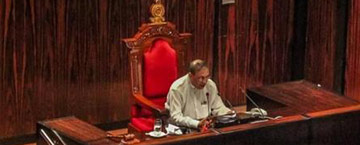 The Supreme Court said today that the due constitutional procedure and the parliamentary Standing Orders had not been followed when presenting the Value Added Tax (Amendment) Bill and as such the entire process had been nullified.
The SC announcement was communicated to Parliament by Speaker Karu Jayasuriya. The Court said a determination on the constitutionality of the bill could not be made on the grounds of the challenge raised by the petitioners one of whom was JO MP Sisira Jayakody. The court says the provisions contained in Article 152 of the Constitution and Standing Order 133 are imperative, and the failure to follow them had nullified the subsequent proceedings.
Article 152 says,"No bill or motion, authorising the disposal of or imposition of the charges upon the Consolidated Fund or other funds of the Republic or the imposition of any tax of the repeal, augmentation or reduction of any tax for the time being in force shall be introduced in Parliament except by a Minister, and unless such a Bill or motion has been approved either by the Cabinet of Ministers or in such manner as the Cabinet of Ministers may authorise."
Article 78(2) of the Constitution says the passing of a Bill should be done in accordance with Standing Orders. Standing Order 133 stipulates that the introduction of a Bill should signify to Parliament the approval of the Cabinet.
JO MPs thumped their desks when the Speaker read out the announcement. (Kelum Bandara)